How to Perform DK Crush Technique?
On November 13th, 2019, DK Crush Technique and technical details were introduced by Prof. Shao-Liang Chen by ACC, the inventor of this transcatheter technique for left main and non-left main bifurcation lesions. Step by step were demonstrated in "Left Main Stenting: What We Have Learnt So Far? ".
Newest Release at TCT 2019

PI of DK CRUSH V, Prof. Shao-liang Chen and research colleagues at TCT 2019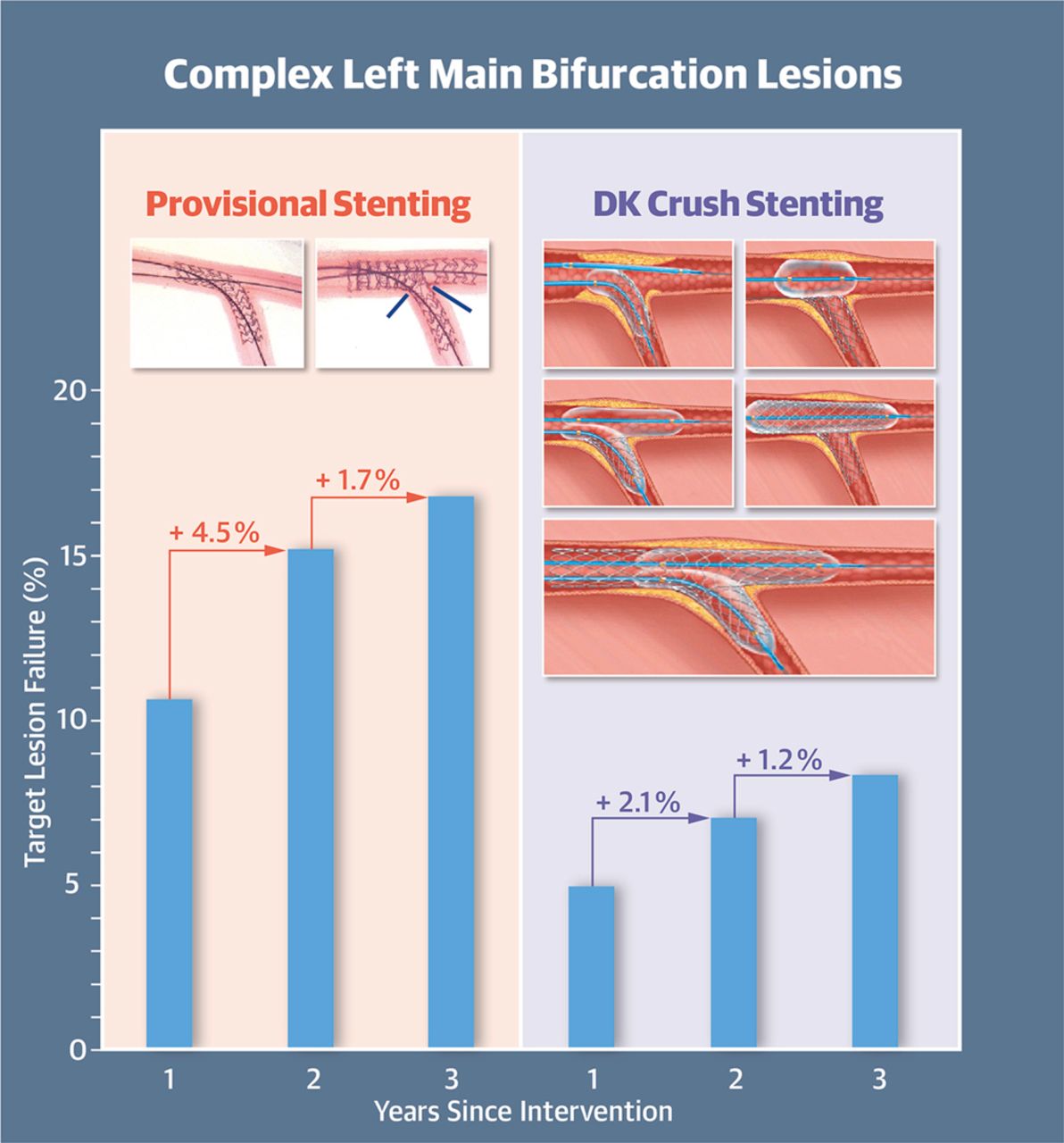 DK CRUSH V 3 Year Outcome:

At 3 years, TLF occurred in 41 (16.9%) patients in the PS group and in 20 (8.3%) patients in the DK group (p = 0.005), mainly driven by increased target vessel myocardial infarction (5.8% vs. 1.7%; p = 0.017) and target lesion revascularization (10.3% vs. 5.0%; p = 0.029). Definite or probable ST rate at 3 years was 4.1% in the PS group and 0.4% in the DK group (p = 0.006). Notably, DK crush was associated with a significant reduction in both primary and secondary endpoints for patients with complex lesions or at high risk. Provisional stenting for UPLMb lesions was associated with significantly increased rates of TLF and ST over 3 years of follow-up. Further randomized study is warranted to confirm the benefits of DK crush stenting for complex UPLMb lesions. (Double Kissing and Double Crush versus Provisional T Stenting Technique for the Treatment of Unprotected Distal Left Main True Bifurcation Lesions: A Randomized, International, Multi-center Clinical Trial; ChiCTR-TRC-11001213).
In a joint review written by Nicola Ryan and Dejan Milasinovic published on PCRonline Journal Club, the authors shared their comments on DK Crush V 3 year outcome:

Why this study – the rationale/objective? -

In non-LM bifurcations, provisional stenting is considered the standard approach in the majority of cases. DKCRUSH-V, the first published randomised control trial of provisional versus 2-stent technique in true left main bifurcation lesions, showed lower rates of target lesion failure (TLF) at one year in the DKCRUSH arm (5.0% vs. 10.7%, p=0.02), mainly driven by increased rates of target vessel MI. In this paper, the authors report the extended follow-up to three years.

Prof. Ruilin Gao presented and highlighted the recommended interventional technique DK Crush for treating left main true bifurcation lesions at CIT 2019 in Beijing.
Prof. Shao-liang Chen gave a thorough analysis on " Why was the superority of provisional stenting to 2-stent not recorded in serial DKCRUSH studies".

Prof. Shao-liang Chen presented DK-Crush Technique at ACC.19 in New Orleans.